Post by Morell on Sept 29, 2019 9:40:39 GMT -5
Yeah, it is probably too early to speak about this fight, but when I dig through the lore and create the descriptions, I must consider the timeline of the games at least partially, because that is the main core of the lore, which must be preserved.
And that takes me to the center of it all, which is final battle between Alucard and Dracula. All plans, all powers were leading to this battle having various plans... I will keep this limited to those two, there is more than enough to consider, as this fight is core of the lore and peak of the game, or at least should be. While most enemies can go along without background the same as with it, here I feel it to be crucial to understand it.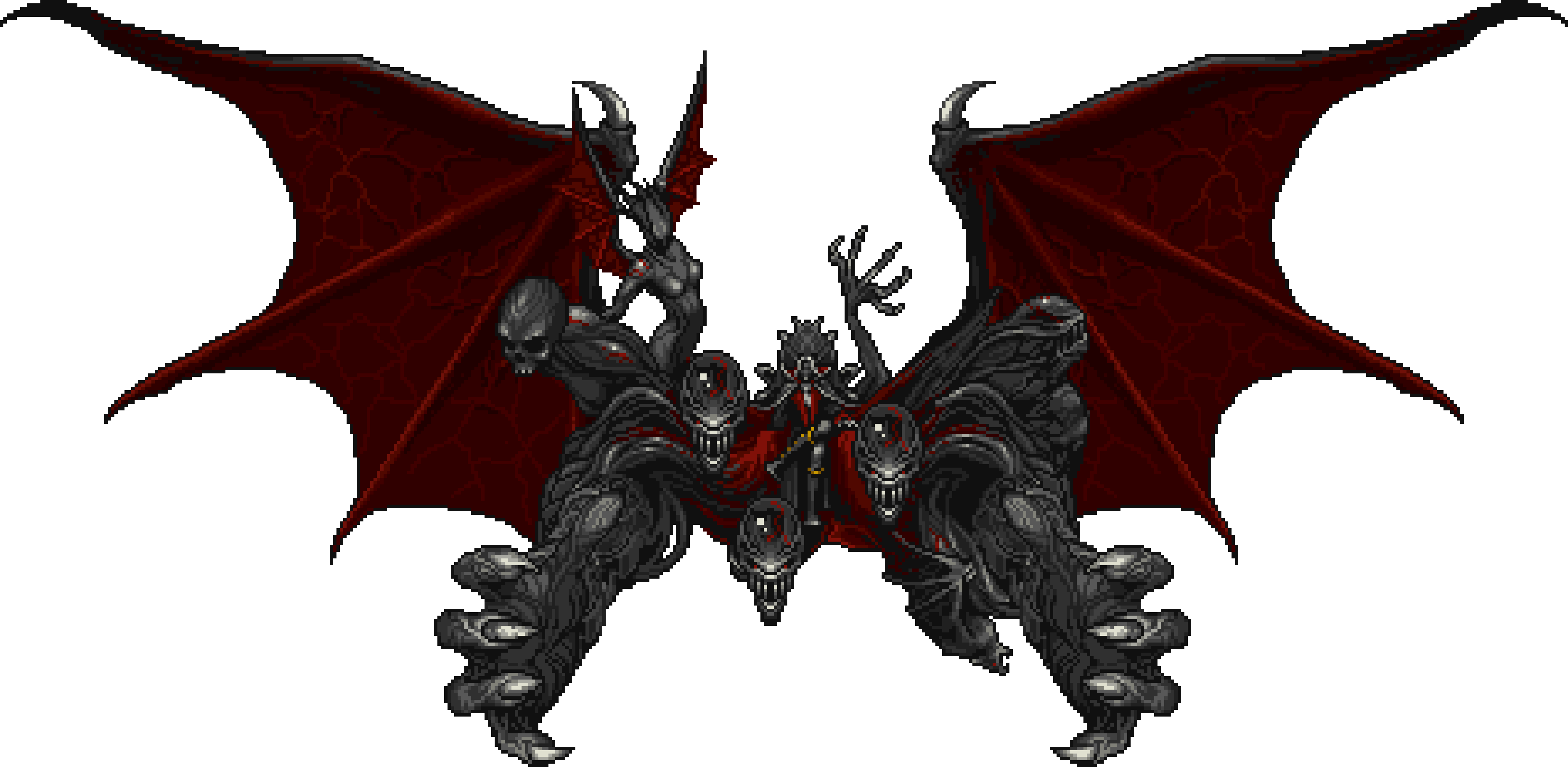 In original game it is visually masterpiece, but there it ends. I doubt that I was the only one disappointed with the actual fight. Since this is battle with a lot of background behind it, let me enlighten you with knowledge, before I get to what I imagine this battle to be, I believe that then you'll understand...
First, what is in mind of Alucard? Alucard is hurt. Seriously, he is. Considering older games he was enslaved by Dracula to do his bidding. It is unknown if there was some fight before it or not, but possibly was and that means that first time Alucard hesitated, as he loves his father. (he would be indeed ungrateful son if he didn't and that doesn't fit his character at all) But he was cursed to obey and follow Drac and under his influence he was killing, torturing, maybe even raping. And all those sins remain heavily on his mind. He just knows that this time he must not hesitate, he knows what would that mean... He comes to put his father to his final rest and although suffering through it, he knows better than to hesitate, he must finish what he does here and has reason for it.
And what is in mind of Dracula? What an insolent son! Lol, but no jokes, that is possibly close to the truth. When their last fight ended with Dracula controlling Alucard, it must had felt good for the Count. Not only they were in full agreement, but he was sure that Alucard is safe under his wings. His mind is now in darkness, for all that time since Lisa's death actually, so he doesn't fully realize what he is doing. He believes himself right. He loves his son and is not really capable of killing him. (quite irony difference from his son, but he caused it himself) So now when they meet again, he wishes not to end his son, but to subdue and tame him. His intention is actually said in the dialog of the original game:
Still uttering the same nonsense. No matter. Now is the time to put aside your weak human side, and join me in remaking this world!
Thinking about it a little shows a lot. Putting aside human side for a half-blood most likely means for Alucard to become full vampire. That would put him under total influence of Dracula, who is maybe the only one capable of controlling vampires. Without his human half Alucard would also be never again able to break free any other way, but through death. Since half-blood can die normal death, to turn him vampire means to bleed him dry, that would not be enough, he would die... so Dracula must suck him dry. And that's what he should be trying to do...
And that puts the play in new shape. Alucard is risking more than just life in this battle, but his very soul...
Dracula should be having variety of ways to slow Alucard, you know Al is really fast... that throne actually is fitting and useful, those big hands are ideal for catching Dhampir to be dragged to Drac to give him vampire kiss. And even though Dracula is living tank, those hands are capable of his protection quite well, so the first stage of this battle is to destroy them. (although those three heads are usefull too as they might push Al towards the hands to be caught)
(just couldn't resist...)
Once Alucard destroys the hands of the throne, Drac jums of it and it becomes real men to man battle. Drac is just as fast as Al and he disappears, so it should be hard to even hit him and he still keeps slowing Alucard and tries to catch and drink him dry... But I guess that he uses a lot of spells to harm him too, but AI(artificial intelligence) of Drac should be stopped from killing Al any other way, but through drinking him dry, as that is the goal...
And what if Al falls and gets sucked dry? He is turned full undead and cannot but to obey Dracula. He may be still realizing that, the worse for him, though, as there is no more escape... That opens alternative ending, such were in later games Aria and Dawn of sorrow. But here what happens? Maria and Richter are waiting, but Richter is exhausted and most likely quite wounded too, not capable of fighting, so it is Maria who goes looking for Alucard. He is in the throne room with Drac, bowing to him, she finds them both there and maybe there is something said and Al attacks her... Everyone can think of how that continues, but it is enough to quit it there.
And defeating Drac doesn't require any edit...