Post by Esco on Feb 24, 2019 18:45:53 GMT -5
NOTE: Now that most of the conceptual stuff for the new Stage 1 has been created, I have made a new thread for any who wish to apply to sprite stuff for it. This thread is now just for conceptual images.
At this point, the graveyard portion of stage 1 is totally fleshed out. But I still wouldn't mind some more ideas for the small chapel part of it, and I still need quite a bit for the larger ruined town area that I want to include in it.
Chapel wise: I'm looking for something short and vertical like in the first stage of CV3. I plan to include the part in the sketch below as well.
Town Wise: I'm creating some like the ruined town of Aljiba from Rondo of blood (which is also in Simon's quest). If anything I would like some decor around indicating that people had been trying to fix it back up.... and had just been slaughtered for their efforts. Something to give the area a darker kind of atmosphere to start us off on. Since I now have an animation for doorways, I was also thinking this area could be traveresed in part by going in and out of houses. Some of which could be on fire, with flames in broken areas below to act as a hazard of sorts. Heck, I could even code something in where once you pass a certain point, the Wyvern flies thru the background and sets things on fire. But that's just a few of the ideas I was throwing around. This town would lead back out to the graveyard (which the end graveyard bit is already done).
Below are 2 images that perfectly show what I am looking for concept wise.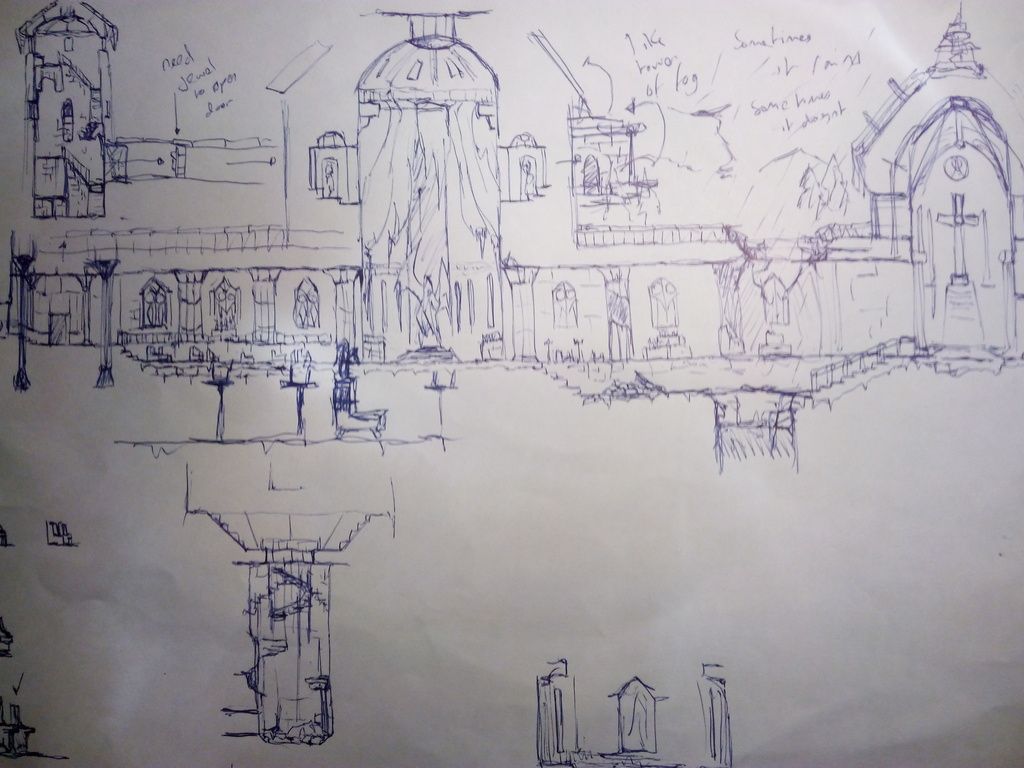 This first image is just a quick sketch of the start of the short chapel section. Which is exactly what I am looking for in a stage concept image initially. The reason behind me wanting something this rough first is simple: for this part of stage concept work there are many times where things that are submitted can be just flat out rejected. And this is normal. The hardest part of conceptualizing something new is fleshing out the basics of it. So it makes no sense to have someone create something with tons of details and for them to spend hours on it.... only for the project director to then reject it. Not only is it waste of the person's time and resources.... but it can be very demotivating as well. While a barebones sketch like this is something that can be done relatively quickly and is an EXCELLENT starting point.

This second image is the finalized concept art for the starting graveyard portion. After an initial concept image is sketched out and approved, THEN things like effects, alternate routes, enemy placement, touch-ups, and anything else involved in the refinement process can be added. And how much effort is put into this part of the process can really vary, though it is not uncommon for there to be several drafts created while finalizing it (for this one I believe there were 4 + this final one). But the goal is that when done you have something that can then be submitted to the spriter on your team, who then starts creating the actual assets. While the image below is an EXCELLENT piece of work with lots of detail, I'm not really asking for finalized concept art to be this detailed. It just takes too long and the goal is to find the right balance between detail vs time, thus minimizing the chance of an artist burning out.
If anyone feels that they have an interest in continuing the concept info for stage 1, feel free to show me an example of your work here. I still need the chapel and town portion fleshed out and can't release the demo until they are done. Please make sure that you will have time to focus on this project if you wish to apply for the position. Time is a factor here, and I will not accept anyone on my team who doesn't have it. If that's not you, but you still want to contribute, that's no problem either. You can just feel free to place any ideas, sketches, art, etc. below. If I use your stuff, I'll make sure to credit you for it as well so that you get some exposure!
(Credit goes to MithiusVampireKiller for the images above).